If Shan'ann was in financial difficulty previously [and she was], the solution seemed to be fairly simple. Move someone in and scrimp. She did this in 2015 when they went bankrupt. She moved in her parents for 15-16 months. Presumably this "saved" money in child care fees, and by pooling resources, food and meals could be cheaper when the expenses were shared by four rather than one or two.
How would you like to live with both your in-laws for over a year?

When Shan'ann had neck surgery, Cristina Meacham came to stay for two months in 2017.
So in 2018, when they were scraping the bottom of the barrel again, there was an easy solution in the offing. Do what she'd always done. Move someone in and piggyback until things improved.
That someone turned out to be Josh and Cassie Rosenberg, just another family of Thrivers [a mom and pop team, and their kids], who could pool their resources. This plan wasn't just theoretical. We know this because on Saturday night [August 11] when Watts was wining, dining and [doing other things] with Nichol Kessinger, Josh Rosenberg sent Watts a text to ask if everything was okay – could they still come and stay at the house.
Josh had good reason to be uncertain if the plan was still in the offing, He knew because Cassie knew that Watts and his wife were arguing. If they arguing, where did it leave them?
Watts didn't respond to Josh until the next morning – Sunday [August 12] – and when he did he said it was cool [even though it wasn't cool at all]. Watts said they could move in, but wanted to know when.

Watts then lied to Josh about something else – he pretended he knew what it was like at the Rockies game.
It's important to see the texts between Shan'ann and her pals Nickole and Cassie in context to get a real sense for how the idea of moving in with Shan'ann [to provide support, perhaps help pay the bills and take care of the kids] came about.
It's clear – and to some extent understandable – that Shan'ann, Nickole and Cassie had formed a formidable alliance of three, and they meant business. Fuck him was the general theme of it. Fuck him and take the house. Even though the house was in Watts' name, they figured they could sort of bully their way into it and taking charge, and at the very least, taking the kids and getting half of what the house was worth.
Fuck him!
Perhaps under normal circumstances Watts would have crumbled and turned the house over to his wife and whoever she wanted to stay over/rent/cohabit or whatever. But these weren't normal circumstances. This situation this time around definitely wasn't going to work for him and his mistress.
The red arrows and circles in some of the final texts below point out specifics of the conversation to move in to casa Watts, and also how Weld County deals with alimony and splitting the house, even if it is in the husband's name.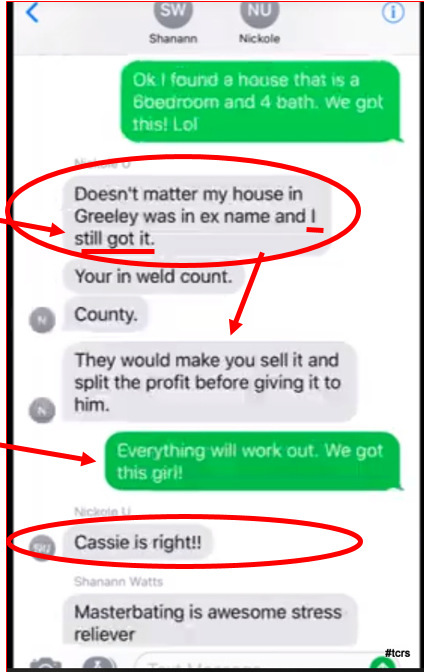 "I have enough to worry about with the world out there I'm not going to worry about family. I will just remove it."

These images are of a for sale sign on the lawn of the Trinastich residence. It's also possible if the for sale sign was on the lawn during the six weeks Shan'ann was away, Watts could have been nudged – almost on a daily basis – to contemplate whether he could keep his home. And we know where that calculus took him, once he took time to do the math.

Below is Shan'ann's final ever message on her phone:
On iPhones do text messages and WhatsApps [or messages via the internet] appear on the same screen? If so, then why did Watts' message at 07:40 not appear on Shan'ann's phone? Could it be because the phone was off, or because the router wasn't connected, or is there another explanation?